Jewell Class of 2021 Commencement
---
05/07/2021
William Jewell College celebrates the Class of 2021 at a Commencement ceremony on Saturday, May 15. The traditional Walk Around the Quad led by Kansas City Celtic Pipes and Drums begins at 8:45 a.m. with Commencement at 9 a.m. in the Mabee Center. The event is open to ticketholders, and all friends are invited to watch via livestream here. A Baccalaureate service has been recorded and will be available for viewing on Friday, May 14. Dr. Heather Duncan, '88, will be the guest speaker.
Guest Speaker
Carlos Gomez, president and CEO of the Hispanic Chamber of Commerce of Greater Kansas City, will be the main speaker at Commencement. In this role since 2007, Gomez works to support the small business community—in particular Spanish-speaking business owners—in eight counties in Missouri and Kansas; lobbies for small business legislation and immigration reform; and connects corporations and government to Hispanic businesses and consumers. He also serves as executive director of the Greater Kansas City Hispanic Collaborative, the Chamber's foundation. The Hispanic Chamber has grown exponentially under his leadership, and he has been named to the Kansas City Business Journal's list of the 100 Most Powerful People. He speaks regionally and nationally on topics such as economic growth, legislation, job creation and affordable health care for Hispanics, and he has served on the board for the National Association of State Latino Chambers of Commerce and has been appointed to two U.S. Senate national summits. Gomez holds business degrees in both marketing and management from Washburn University.
Senior Speaker
The student speaker, chosen by the senior class, will be Carman Stephenson of Liberty. She is graduating magna cum laude with honors in Elementary Education and was selected by faculty as the Outstanding Senior in Elementary Education. Some of her campus activities include Student Senate, Pryor Leadership Fellows, Mortar Board, Zeta Tau Alpha, Kappa Delta Pi honor society, Cardinal Hosts and resident assistant. Stephenson will teach third grade next year in North Kansas City Schools.
Honorary Doctor of Humane Letters Recipients
William A. Hall joined Hallmark in 1968 upon graduating from Southern Methodist University with a master's degree in finance. He held several financial and management roles before being named president of the Hall Family Foundation and assistant to the chairman of Hallmark Cards, Inc., in 1982. He served in that role until retiring in 2020. Although not related to founder Joyce C. Hall, Bill Hall dedicated his 52-year career to serving Kansas City and its people, the vision established by the Hall Family more than 100 years ago. True to his servant leadership nature, Hall has served and led numerous corporate and charitable boards, such as Crown Bancshares, JE Dunn, H&R Block Foundation, Henry and Marion Bloch Family Foundation, Heart of America United Way, Pembroke Hill School and MRI Global. The 2007 Greater Kansas City Chamber of Commerce Kansas Citian of the Year, Hall has been deeply involved with the Kansas University Medical Center, renovation of Union Station and expansion of Children's Mercy Hospital, as well as instrumental in revitalizing Quality Hill neighborhood and establishing Kansas City's COVID Relief Fund.
 
Bobby Kendrick was named president of the Negro Leagues Baseball Museum in 2011. Founded in 1990, it is the world's only museum dedicated to preserving and celebrating the rich history of African-American baseball and its profound impact on the social advancement of America. The Crawfordville, Georgia, native graduated from Park College with a B.A. in communication arts. After working as a senior editor at the Kansas City Star and volunteering at the NLBM, Kendrick became the Museum's first director of marketing in 1998. In his decade as president, he has helped secure more than $20 million in support to restore vitality and financial stability to the Museum. Among his honors include the Greater Kansas City Black Chamber of Commerce Mary Lona Diversity Award, the Omega Psi Phi Fraternity Citizen of the Year and the Kansas City Call's Person of the Year. For excellence in sports administration, Kendrick was inducted into the 2014 Missouri Sports Hall of Fame.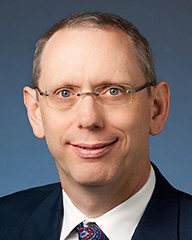 Steven Stites, M.D., '82,  joined the University of Kansas Health System leadership team as senior vice president of clinical affairs in 2012 and became executive vice president and chief medical officer in 2018. He serves a dual role as vice chancellor for clinical affairs at the University of Kansas Medical Center. Stites has responsibilities in the areas of clinical programs and practice development, as well as strategic planning and education. Throughout the pandemic, Stites has been one of Kansas City's most visible health care administrators, providing education, assurance and thought leadership as the community navigated through a global disease. He is a 1982 William Jewell College alumnus and received his medical degree from the University of Missouri-Columbia. He is a Board Certified internal medicine physician and served as chair of the University of Kansas Medical Center Department of Internal Medicine from 2007-2014. Specializing in pulmonary disease, Stites founded and directs one of the largest adult cystic fibrosis programs in the United States.