Northland Martin Luther King Event with speaker Qiana Thomason
---
12/22/2022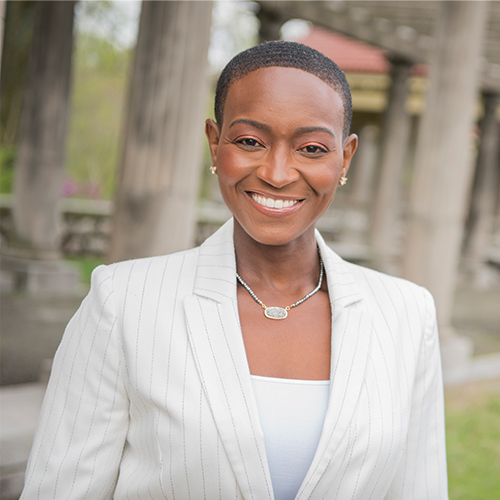 The Clay County African American Legacy and the Northland Martin Luther King, Jr. Program Committee invite the community to attend the 39th annual Northland Martin Luther King, Jr., Celebration at 10 a.m. on Monday, Jan. 16, 2023. The keynote speaker will be Qiana Thomason, president and CEO of Health Forward Foundation and a member of the Jewell Board of Trustees.
In addition to special music and tributes, community members and organizations will be presented service awards at the event. 
The Invictus Award for Social Justice will be given to Alvin Brooks, Kansas City Civil Rights Activist, and the Martin Luther King Community Service Awards will be presented to Dr. Anthony J. Maglione, William Jewell College Director of Choral Studies; Stephen B. Rhodes, Principal Architect at Vireo Landscape Architecture and Design; Brynesha Griffin-Bey, a William Jewell College music education major; Charles C. Haddix, KCUR- FM Producer and Host of " Fish Fry" radio program; William C. Ponder, U.S. Marine Corps Master Sergeant (retired); and Martha Marshall, Hy-Vee employee.
Speaker Thomason is a lifelong Kansas Citian who has dedicated her career to the improvement of health and wellness across the region, with a special focus on powerful and resilient communities experiencing health injustices and people living in marginalized conditions. She serves as a board member of Grantmakers in Health, the National Rural Health Resource Center, Kansas City Chamber Chamber of Commerce and Urban Neighborhood Initiative as well as on the City of Kansas City's Health Commission. She received her undergraduate degree in social work from Florida A&M University and has a Master of Social Work degree from the University of Kansas.
Thomason came to Health Forward from Blue Cross and Blue Shield of Kansas City (Blue KC), where she served as vice president of population health and community health. During her tenure at Blue KC, she led development and implementation of new care delivery and payment models in partnership with the Center for Medicare and Medicaid Innovation and primary care providers throughout Kansas City. She was also a successful champion for the inclusion of health equity and the social influencers of health in Blue KC's corporate strategy. Prior to Blue KC, Thomason spent eight years at Swope Health as program manager of a regional Mental Health Court and as the director of clinical operations, behavioral health. Thomason also served as deputy director and health and human services liaison for Senator Jean Carnahan.