Lopez and Rosson named Trustees
---
08/16/2023
William Jewell College is pleased to announce the appointment of Beto Lopez and Chris Rosson to the College's Board of Trustees.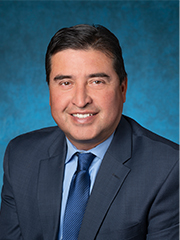 J. Beto Lopez serves as president and CEO of Guadalupe Centers, the country's longest continuously operating agency serving Latinos. The broad range of services include preschool to high school bi-lingual education, youth development, recreation, family support, workforce development, health support, senior services and financial services through the Guadalupe Centers Credit Union. Prior to his appointment in 2021, he served Guadalupe Centers for three years as COO and in a volunteer capacity as board president from 2011-2013.
Lopez, a licensed realtor, has 28 years' experience in commercial real estate, a commercial lending manager and vice president of private banking at Arvest Bank in Kansas City. Now in his second term on the Lee's Summit City Council 3rd District, he also serves as Mayor Pro Tem. Other current and past civic leadership includes the Jackson County Sports Commission, United Way of Greater Kansas City, Mid America Regional Council, Kansas City Softball Academy, KC Scholars, KC Common Good, Truman Heartland Community Foundation, Lee's Summit Planning Commission, Donnelly College Board of Trustees and Kansas City Brownfields Commission.
A longstanding advocate for Kansas City's westside community where he grew up, Lopez is a first-generation college graduate with bachelor's degrees in political science and Spanish from Rockhurst University and an MBA from Baker University. He and his wife, Venessa Maxwell-Lopez, are the parents of three daughters, including a rising senior at Jewell.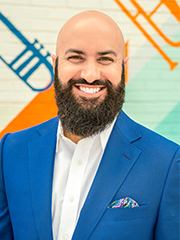 Chris Rosson, a 2006 Jewell graduate, is the president and CEO of United Way of Greater Kansas City, which serves one in three people across the metro's six counties. Guided by a passion to transform the community by transforming lives, Rosson fights for health, education and economic empowerment to build a better Kansas City for all.
A native of Kansas City and a first-generation high school and college graduate, Rosson graduated summa cum laude from both Jewell (B.A. in Business Administration and Economics) and Johns Hopkins University (M.A. in International Economics and International Relations). As a Jewell student, Rosson studied at Oxford University and was one of the top 20 students named to USA Today's All-USA College Academic First Team. He served as an advisor to the Governor of Missouri, a public affairs specialist with the Millennium Challenge Corporation in Washington, D.C., a George Mitchell Scholar in Ireland, a program director with the Federal Reserve System, among other roles. Most recently, he served six years as executive director of Teach for America Kansas City where he advocated for educational equity and worked to recruit leaders to teach in the urban core.
In 2022 Rosson received the William Jewell College Citation for Achievement, the College's highest alumni honor. He serves on the Board of Directors for the Harry S. Truman Presidential Library Institute and resides in Independence with his wife and their five daughters.
The William Jewell College Board of Trustees works closely with the Cabinet to establish strategic initiatives and goals to fulfill the College's mission and strategic plan. See the full list of William Jewell College trustees and leaders at jewell.edu/trustees.