Jewell names new VP of Academic Affairs
---
05/26/2023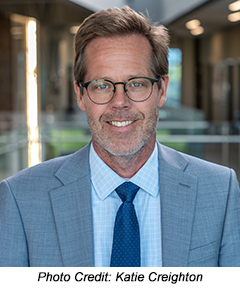 William Jewell College welcomed Dr. Daniel Jasper as the Vice President of Academic Affairs on May 22.
The VPAA position is crucial to upholding the College's mission and its commitment to excellence in the liberal arts. Jasper will oversee the hiring of faculty, manage academic programs, support faculty innovation, ensure the efficacy of curricula grounded in clear learning outcomes, lead the faculty in assessment of student learning and program review, and bring an entrepreneurial mindset to the development of new academic programs.
"As the Chief Academic Officer, Dr. Jasper brings deep experience in the liberal arts, shared governance, collaborative leadership, and programmatic development," said Jewell President Dr. Elizabeth MacLeod Walls. "He is an active listener and critical thinker who asks probing questions and embraces our shared journey to provide a high-quality academic experience and high access for an academically strong and diverse student body. We are excited to welcome him to the Jewell Family and know his intellectual energy will strengthen our learning community."
Jasper served for 20 years at Moravian University (Pennsylvania), most recently as the Associate Provost and Dean of the College of Arts and Sciences. He held various academic appointments including Professor of Sociology and numerous administrative positions, such as Co-Director of the Peace and Justice Studies Program, Academic Director of the Peace Corps Prep Program, Department Chair of Sociology and Anthropology, and Dean of the School of Arts, Humanities and Social Sciences. His first academic appointment was as Visiting Assistant Professor of Sociology at Wheaton College (Massachusetts).
His sociology degrees include a B.A. from Macalester College, as well as an M.A. with highest honors and a Ph.D., both from the New School for Social Research (New York). He also holds a Certificate in Marathi Language and Culture from Tilak Maharashtra Vidyapeet (India).